Welcome to Issue 10 of Popular Crypto, a newsletter about the mainstream products and services taking crypto to the masses.
In this issue:
Rocketing rates of adoption in DeFi's lending sector
Bitrefill's Lightning-enabled bulk order shopping cart
Evercoin 2, a mobile-first hardware wallet integrated with YubiKey
The Kraken Pro trading app with fees as low as 0%
We also cover the release of Brave 1.0 and the browser's plans to expand into crypto e-commerce.
All that and more in this week's issue. But first, here's some…
🚀 Updates From Nomics
Nomics Update #1: Flippening episode #60, Why Institutional Investors Are Flocking to Liquid, is live on our blog. In the episode, we meet Mario Lozada, co-founder, President, and CTO of Liquid, a Japan-based cryptocurrency exchange. We discuss institutional investors, regulation, and the future of the space.
Nomics Update #3: Our Cryptosteel Capsule giveaway continues! We've partnered with the generous people at Cryptosteel to give away 3 (THREE!) Cryptosteel Capsules. The Capsule, otherwise known as "The Mother of All Backups," is the premier backup tool for cryptocurrency HODLers. The giveaway ends November 19th at midnight EST. Enter here. (If you're a product company in the crypto space and would like to work with us on a giveaway, please get in touch).
And now, let's see what the cryptocurrency world has brought us this week.
Clay Collins
Nomics Co-Founder
😍 Thanks To Our Sponsor: Nexo.io
😎 Cool Products
Despite the ongoing bear market, which has cost Ethereum (ETH) nearly 90% of its market cap, adoption rates in the blockchain's most popular decentralized finance (DeFi) sector keep on climbing. Over the past year, the USD value of outstanding debt serviced by DeFi lending applications has just about doubled. Check out the following chart for a breakdown of outstanding debt in terms of Dai (DAI), USD Coin (USDC), and ETH.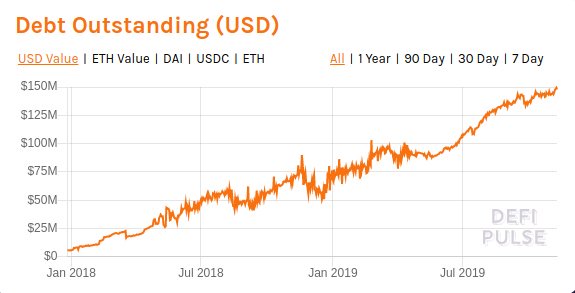 Bitrefill, which lets customers buy gift cards and pay phone bills with Bitcoin (BTC) and other cryptocurrencies, has launched a new bulk order shopping cart. In the past, customers could only order one product at a time, and each purchase required a separate blockchain transaction. Now, customers can buy gift cards, phone refills, or Lightning services in a single go.

The Brave browser, which attracted nearly 9 million active users while in beta release, has been officially launched. With Brave 1.0, users of iPhones and iPads can participate in the browser's blockchain-based advertising model, which pays Basic Attention Token (BAT) to users who opt-in to ads. Previously, rewards were only available on desktop and Android devices.
BlockFi, a financial services company that pays interest on crypto balances and accepts Bitcoin (BTC), Ethereum (ETH) and Litecoin (LTC) as collateral for loans, recently rolled out Interest Payment Flex, a program that lets account holders receive interest in the cryptocurrency of their choice. For example, a BTC holder can now elect to receive interest in a different cryptocurrency like ETH or Gemini dollars (GUSD).
Coinmine, producers of the Coinmine One miner and Lightning node, will soon be launching Coinmine Interest, a new program that pays 6.5% interest to users who keep their earned Bitcoin (BTC) and Ethereum (ETH) in Coinmine wallets. The program starts in December.

Binance, the world's largest crypto exchange, and smartphone manufacturer HTC have announced the special edition Exodus 1. The new phone will be fully integrated with Binance Chain, Binance's public blockchain, enabling users to easily trade on Binance or Binance DEX.  The phone comes preloaded with HTC's Zion Vault – for trading on Binance DEX – and Trust Wallet, the official cryptocurrency wallet of Binance. 

A Bitcoin soft fork is on the way.  The following video explains how upgrades to Bitcoin's consensus protocol will provide the blockchain with greater scalability for multi-signature applications.  To put it another way, the upcoming changes are expected to enhance the efficiency and privacy of Bitcoin transactions.
---
🧧 Wallets
Evercoin used this week's Invest: NYC event to debut the Evercoin 2, a mobile-first hardware wallet integrated with YubiKey. The wallet's mobile-first nature enables it to leverage a phone's built-in security features like fingerprint or face ID to add an additional authentication factor. Available on Android and iOS, Evercoin currently supports 20 digital assets, including Bitcoin (BTC) and Ethereum (ETH).

Abra, a California-based all-in-one crypto wallet and exchange app, has added 60 more cryptocurrencies to its platform. The new offerings will include four stablecoins: Dai (DAI). Paxos Standard (PAX), Tether (USDT), and TrueUSD (TUSD). Abra also announced that it would be increasing US users' bank limits to $4,000/day, $8,000/week, and $16,000/month.

Trust Wallet now supports Ethereum Name Service (ENS) domains. Built on Ethereum, ENS simplifies blockchain-based transactions by allowing users to swap 0x-prefixed Ethereum addresses like "0x4cbe58c50480…" for human-readable addresses like "alice.eth." For a helpful setup guide, check this out.
---
🐌 Mainstreaming
Samourai is bringing financial sovereignty to the masses. The surest way to privately transact Bitcoin is via a full node. Unfortunately, the process of installing and configuring a full node can be complicated. Samourai's Dojo software, which was initially released in June 2019, allows users to install, configure, and secure a connection to the blockchain with a single command. A node can then be paired to a Samourai wallet by scanning a QR code.
In partnership with HerdX, an AgTech company that specializes in blockchain-based livestock tracking tools, UPS has monitored and delivered a shipment of Black Angus steaks from Arkansas City, Kansas to Tokyo, Japan. Diplomats celebrated the accomplishment and ate the steaks.

LuxTag, a Malaysia-based firm that provides anti-counterfeiting solutions, has launched a self-serve asset-tagging platform. The platform, known as Papyrus, enables users to independently create digital certificates on the NEM (XEM) blockchain then tag associated items with QR codes or NFC stickers.
---
💳 Payments
Brave, which just launched version 1.0 of its crypto-enabled browser, is already planning its next steps. At Web Summit in Lisbon, Portugal, Brave CEO Brendan Eich explained that he hopes users of the browser will soon be able to engage in e-commerce using any cryptocurrency. Presently, Brave only supports transactions in a handful of coins including Bitcoin (BTC), Ethereum (ETH), Dash (DASH), and Basic Attention Token (BAT).

BTCPay Server, an open-source payment processor that enables fee-free payments in Bitcoin (BTC) and altcoins, has released version 1.0.3.137. Features include a new login page, integration with iOS app Fully Noded, and support for Eclair, a Lightning Network implementation.

Coinbase has added five new cryptocurrency options to its Visa debit card, which instantly converts crypto to fiat at the point of sale. Holders can now spend Augur (REP), Basic Attention Token (BAT), Stellar (XLM), XRP (XRP), and 0x (ZRX). Meanwhile, the card has been expanded to 10 additional European countries, bringing the total number to 29.
---
🏦 Banks
Google is going into banking. Through its "Cache" initiative, the tech giant will be partnering with banks and credit unions to offer checking accounts to consumers. Google will provide access to young, digital-savvy customers while local partners will handle the financial and compliance work. The project is expected to launch in 2020.

After successfully completing a one-month test phase with Swiss regulators, cryptocurrency bank SEBA has opened its doors to individual investors and enterprise clients. The bank offers a wallet app, e-banking services, and support for Bitcoin (BTC), Ethereum (ETH), Stellar (XLM), Litecoin (LTC) and Ethereum Classic (ETC).

Banque de France, France's central bank, is on the lookout for a blockchain analyst. In an October job posting, the institution explained that it was exploring the idea of developing a digital currency. The bank also seeks a development engineer to study how blockchain might be applied to other banking functions.
---
💱 Exchanges
San Francisco-based crypto exchange Kraken has launched Kraken Pro, a mobile trading app with more than 100 trading pairs, multiple charting and order book display options, and fees as low as 0%.  The app is available on Android and iOS.
---
🏆 Our Weekly Poll
In our last poll, we asked you about your favorite 2FA solution. Here are the results:
This week, we want your opinion on crypto lending services. We covered the rocketing rates of adoption in DeFi's lending sector. In your opinion, which platforms or companies offer the best crypto loan products?