Welcome to Issue 11 of Popular Crypto, a newsletter about the mainstream products and services taking crypto to the masses.
In this issue:
MakerDAO (MKR) launches Multi-Collateral Dai
ShapeShift teams up with Portis Wallet and goes commission-free
LocalEthereum rebrands as LocalCryptos
Arwen brings self-custody to centralized exchanges
We also cover Grayscale's bid to register Bitcoin Trust (GBTC) as an SEC reporting company.
All that and more in this week's issue. But first, here's some…
🚀 Updates From Nomics
Nomics Update #1: On November 21st, we held a webinar with Matt Chwierut, co-founder & Director of Research at Smith + Crown, a leading blockchain research organization. The webinar, entitled The Frontiers of Cryptoeconomic Design, covered a range of topics including the basics of cryptoeconomic systems and use cases for tokens. Catch the replay here.
Nomics Update #2: Flippening episode #61, Nomics' Lead Investor on Growing Startups Outside the Valley, is live on our blog. In the episode, we meet Patrick Meenan, General Partner at Arthur Ventures, a venture capital firm that invests in B2B software companies located outside of San Francisco. We discuss how he spots investment opportunities and how entrepreneurs can find VCs outside the Valley.
Nomics Update #3: The Nomics deep data integration specification and auditor have been updated to version 1.0.0 (which updates market type and active flags and adds additional optional metadata for derivatives markets).
Nomics API Update #4: The All-Time High (ATH) value for the currency ticker (when the convert parameter is provided) are now calculated based on the relationship between the currency and conversion currency. Previously, if you requested BTC's ticker quoted in ETH, the ATH would be BTC/USD's ATH, converted to ETH using today's exchange rate. With this change, BTC's ticker quoted in ETH has an ATH representing when ETH/BTC had its all-time high. As in "when was 1 BTC worth the most ETH?". This means, changing your conversion currency in the API, or your quote currency on Nomics.com will change the ATH % and date of the ATH to be relative to the converting currency.
And now, let's see what the cryptocurrency world has brought us this week.
Clay Collins
Nomics Co-Founder
😍 Thanks To Our Sponsor: Nexo.io
😎 Cool Products
MakerDAO (MKR) has launched Multi-Collateral Dai (DAI). Also known as MCD, this new and improved version of the stablecoin can be backed by multiple forms of collateral – including Basic Attention Token (BAT). Contrast that with original Dai, renamed Single-Collateral Dai (SAI), which was backed solely by Ethereum (ETH). Users can secure their collateral assets through Oasis Borrow. The following video shows how to create an Oasis Borrow Vault.
As Maker plans to phase SAI out, it's vital any holders update to the new, multi-collateral version. If that's you, check out this guide.
The arrival of Multi-Collateral Dai also means that holders can earn interest automatically by locking their Dai into the Dai Savings Rate (DSR) smart contract. The DSR contract can be reached via the Oasis Save interface.
At the recent 2019 GraphQL summit in San Francisco, DApp infrastructure provider Infura showed how their team is improving the way that developers query Ethereum (ETH) through EthQL, a collaborative project focused on standardizing GraphQL for the Ethereum blockchain. Want to query the blockchain for yourself? Try Infura's GraphQL playground.
Grayscale Investments has filed to register its publicly-traded Bitcoin Trust (GBTC) product as an SEC reporting company. If the bid is successful, GBTC will be the first cryptocurrency investment vehicle to become an SEC reporting company. For GBTC investors, approval would mean greater liquidity. For Grayscale, it would mean access to more customers. As part of their wider campaign to bring cryptocurrency to the masses, the investment firm also released the following video.
---
🧧 Wallets
Self-custody crypto trading platform ShapeShift has announced support for the Portis wallet. In the past, ShapeShift was only accessible via hardware wallet. Now, anyone can trade on the platform – and keep their keys private – by creating a web-based wallet with Portis. For more, check out this wallet setup guide or see the following video.
KZen, the team behind the ZenGo keyless cryptocurrency wallet, has brought Threshold Signatures Scheme (TSS) to the Klaytn (KLAY) blockchain. TSS splits the responsibility of signing a transaction between multiple parties, each of whom secretly generates a portion of the key. KZen has previously added TSS support for Bitcoin (BTC), Ethereum (ETH), Binance Coin (BNB), Zilliqa (ZIL), Libra, and Tezos (XTZ). Klaytn developers who are interested in incorporating KZen's work into their projects can visit the repo or check out the following gif.
Trust Wallet has added support for Tezos (XTZ) staking. In the Tezos ecosystem, "bakers" can earn additional XTZ by ensuring that blockchain transactions are correct. Now, bakers can fire up their ovens straight from their Trust Wallets. For a step-by-step guide, see here.
Trezor has added three new partners to its in-wallet exchange. Users will now be able to browse exchange rates and trade coins on ChangeHero, Fox.Exchange, and MorphToken. Previously, Trezor had only supported ChangeNOW (NOW), Changelly, and CoinSwitch.
---
🐌 Mainstreaming
Carrefour and Nestlé have announced that they will be leaning on IBM's Food Trust blockchain to track milk-based baby formula from its origins to store shelves. Customers will be able to scan a QR code and access a range of information about the product. The retailers have been using blockchain to monitor supply chains for instant mashed potatoes, full-fat milk, and other products since early 2019.
CNBC has named Lolli to its Upstart 100 list of venture-backed start-ups with "potential to transform industries and become tomorrow's household names." Lolli is an app that partners with major retailers to reward shoppers with free Bitcoin (BTC) when they buy online.
Italian luxury carmaker Lamborghini (of "when lambo?" fame) will be using blockchain to track the authenticity of Lambos sold on the secondary market. Dealerships, repair shops, and others will be able to log transactions onto the blockchain so customers can be sure they're buying a real Lambo with genuine Lamborghini parts.
---
💳 Payments
Pepo, a decentralized social media app with a built-in cryptocurrency wallet, has become the first crypto-powered app to be approved by Apple Pay. Using Apple Pay, participants can buy Pepo tokens to tip content contributors and make in-platform purchases. The app is also available on Android.
Mexican cryptocurrency exchange Cubobit has launched RemeZaZa, a Dash-powered platform that promises to speed remittances to Mexico. Users send remittances in Dash (DASH), which is instantly converted to Mexican pesos and deposited to the recipient's bank account or RemeZaZa debit card.
The US Federal Emergency Management Agency (FEMA) may be developing a blockchain-based registry to streamline disaster insurance payouts. The registry would contain land records and other critical information for processing insurance and disaster assistance claims.
---
🏦 Banks
Chicago-based custody bank Northern Trust has partnered with Singapore's BondEvalue to tokenize bonds using Hyperledger Sawtooth, an enterprise blockchain platform. The bank will be tokenizing – or fractionalizing – high-quality bonds that are normally too large for individual retail investors. For more on tokenization, check out Tokenize the World, our three-part documentary on tokenized securities.
J.P. Morgan has developed a blockchain-based tool to enable the real-time transfer of cash and collateral to multiple clearinghouses. The tech, developed in partnership with California-based Baton Systems, will also allow users to monitor assets in transit from the investment bank to participating clearinghouses.
In a joint proof-of-concept involving several banks, German securities marketplace Deutsche Börse and Swiss telecom Swisscom have completed a cross-chain securities settlement. The institutions exchanged cash tokens for tokenized shares using two different distributed ledger protocols, R3's Corda and IBM's Hyperledger Fabric.
---
💱 Exchanges
Along with their integration with Portis, ShapeShift has announced zero-commission cryptocurrency trading. To facilitate the new commission-free option, the platform will be depositing FOX tokens into user accounts. Each token will be good for $10 of trading volume every 30 days on a rolling basis. The more tokens a user has, the more trades they execute for free. For more on trading with FOX tokens, check out the following video.
LocalEthereum, the original peer-to-peer Ethereum (ETH) marketplace, has rebranded to LocalCryptos to support more cryptocurrencies – including Bitcoin (BTC). The platform is also developing a new smart contract to handle ERC-20 and ERC-721 tokens.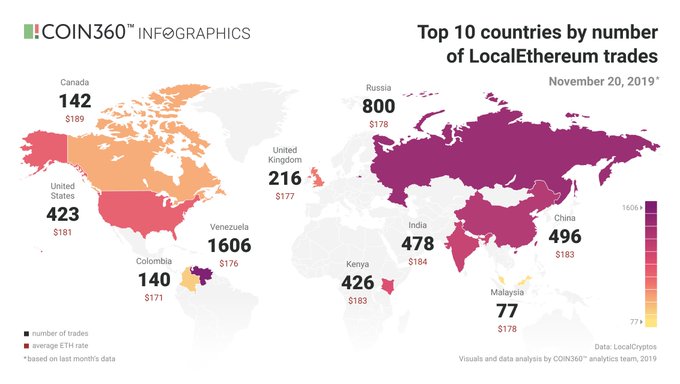 Boston-based Arwen has launched a settlement solution that lets users trade on familiar centralized crypto exchanges without having to trust those exchanges to custody their coins. In other words, the service enables traders to self-custody without losing access to exchange order books. KuCoin is the first centralized exchange to support Arwen, which can settle trades in Bitcoin (BTC), Litecoin (LTC), and Bitcoin Cash (BCH).
Binance, the world's largest cryptocurrency exchange, has acquired Indian digital asset platform WazirX to gain access to the world's second-largest country by population. Beginning November 25th, WazirX users will be able to buy and sell crypto with Indian rupees through the Binance Fiat Gateway.
---
🏆 Our Weekly Poll
In our last poll, we asked you about crypto loan products. Here are the results:
This week, we want your take on stablecoins. We covered Maker's launch of Multi-Collateral Dai (DAI). In your opinion, what's the strongest stablecoin in the Cryptosphere?