This post was last updated on December 18th, 2019 at 08:12 pm
Welcome to Issue 13 of Popular Crypto, a newsletter about the mainstream products and services taking crypto to the masses.
In this issue:
Nayuta releases a hybrid full-node/SPV Lightning mobile wallet
Ethereum (ETH) completes its Istanbul hard fork
SoftBank launches a crypto-enabled payment card
Bakkt debuts Bitcoin (BTC) options and cash-settled futures
We also cover Deutsche Bank's "Imagine 2030" report which predicts the end of fiat money and the rise of cryptocurrencies.
All that and more in this week's issue. But first, here's some…
🚀 Updates From Nomics
Nomics Update #1: We've taken our raw, gapless historical trade data to the next level by enabling historical exchange, aggregated pair, and aggregated OHLCV candles for all intervals from inception. As before, each candle is built from the bottom up with primary source trade execution information.
Nomics Update #2: More API news… It's now possible to specify a convert parameter when calling the Volume History endpoint. By default, volume history is returned in USD, but you can choose convert=EUR, convert=BTC, or any fiat or cryptocurrency listed on Nomics. For more, check out the API docs.
Nomics Update #3: On the Markets tab for each cryptoasset on Nomics, we list trading pairs on every exchange that has integrated with us. For each pair/exchange, we now include the market ID, the pair's identifier on the exchange. We've also added the type of market: Derivative or Spot. See the screenshot (below) or try a real live Markets tab.
Nomics Update #4: We're also pleased to announce our new webinar portal. We regularly hold in-depth webinars with leaders in the crypto space, and we always give plenty of notice, but not everyone has time to listen in the middle of the day. No longer a problem – we've got all the replays in the same place.
Nomics Update #5: Flippening episode #64, The Evolution of Crypto-Backed Loans, is live on our blog. In the episode, we talk with Antoni Trenchev, co-founder and Managing Director at Nexo (NEXO), a provider of instant crypto-backed loans and high-yield savings products. We cover the Nexo product line, the history of crypto-backed lending, and the future of the space.
Nomics Update #6: Our Ballet hardware wallet giveaway continues! We're giving away 3 (THREE!) multicurrency, non-electronic Ballet hardware wallets. The wallet, which is the size of a credit card, is easy to use and supports Bitcoin plus a growing list of altcoins. The giveaway ends on December 16th at midnight EST. Enter here. (Side note: if you're a product company in the crypto space and would like to work with us on a giveaway, please get in touch.)
And now, let's see what the cryptocurrency world has brought us this week.
Clay Collins
Nomics Co-Founder
😍 Thanks To Our Sponsor: Nexo.io
😎 Cool Products
Japanese startup Nayuta has released a hybrid full-node/SPV Lightning mobile wallet. The wallet, which is available for Android, lets users choose between a fully validating Bitcoin node, a lighter SPV (simplified payment verification) version, and a hybrid mode that switches between the two. Hybrid mode could be used to run SPV during the day – when battery life is a consideration – then switch to the full node at night. [Link]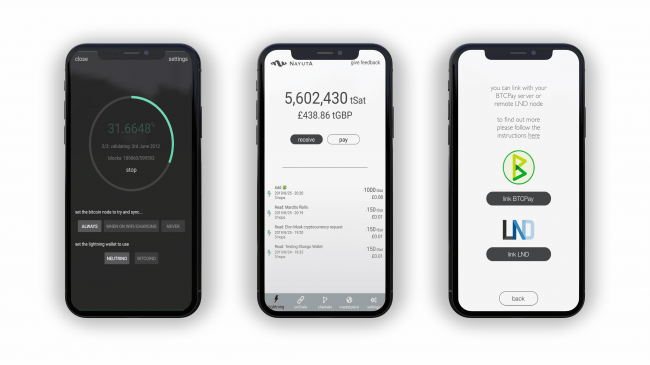 MicroBT, a Shenzhen-based manufacturer of cryptocurrency mining equipment, has released the Whatsminer M30S, a plug-and-play ASIC Bitcoin miner. The rig promises hashing power of up to 88 terahashes per second with energy consumption of just 38 joules per terahash. [Link]
Apple's iOS 13.3 release has enabled Yubico to add NFC support for its iOS authenticator app. Previously, YubiKey 5Ci was the only Yubico key that could be used on iOS devices, and it had to be plugged in via the Lightning port. Now, YubiKey 5 NFC and Security Key NFC can also be used. Combining a key with an authenticator app adds a second layer of security because it requires the key to access the code generated by the app. Cryptocurrency exchanges like Binance and Coinbase have long recommended hardware 2FA as the best way to secure an account. [Link]
---
🧧 Wallets
Authereum, a wallet provider known for offering a familiar "web 2.0" login experience, has abstracted away the need for ETH. Users can now sign in with a username and password, buy Dai (DAI) or USD Coin (USDC) with a debit card, and start using Ethereum DApps without having to worry about blocks, gas, or crypto market conditions. [Link]
---
🐌 Mainstreaming
Since the mid-November release of Brave 1.0, the blockchain-enabled web browser has experienced a 19% surge in monthly active users. There are now 10.4 million active users taking advantage of the browser's privacy-focused advertising platform, which pays Basic Attention Token (BAT) to users who opt-in to ads. [Link]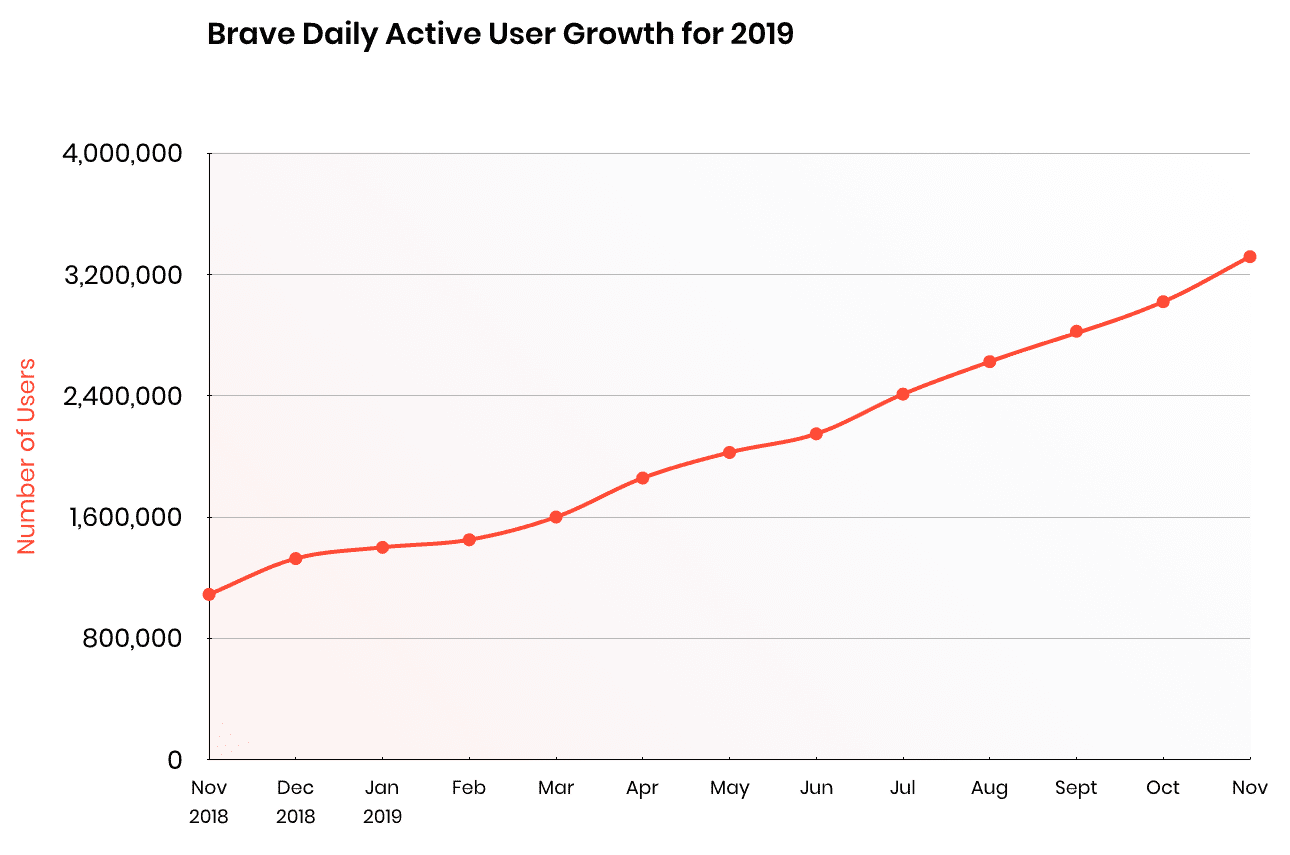 Kansai Electric Power Co, Japan's second-largest utility company, is extending its trial of a blockchain-based renewable trading platform. Built by Power Ledger, the system tracks and settles credits generated by rooftop solar systems. [Link]
---
💳 Payments
Japanese conglomerate SoftBank has launched a new payment card that will enable users to store and spend crypto with 10,000 retailers across Japan. The SoftBank Card features hot and cold storage functionality plus a smart LED screen that displays user balances. [Link]
---
🏦 Banks
In its "Imagine 2030" report, Deutsche Bank predicts that the fiat money system will collapse, giving rise to a new paradigm based on cryptocurrency. According to the report, fiat has only lasted this long because of "a fortuitous set of global forces across multiple decades that have created sizeable natural offsetting disinflationary forces." [Link]

Elliptic, a UK-based crypto forensics and analysis firm, has launched Elliptic Discovery, a tool that enables banks to analyze cryptocurrency exchange data. As financial institutions understand fund flows into and out of cryptoassets, they will be able to manage risk and pursue more opportunities in the space. The tool provides info dating back to 2013. [Link]
For the first time, a bond's entire lifecycle has been managed on blockchain. Banco Santander redeemed a $20 million bond using Ethereum, the network on which the bond was issued in September. The Spanish banking giant has been experimenting with blockchain to streamline the issuance of debt securities. [Link]
---
💱 Exchanges
Bitcoin futures exchange Bakkt has launched two new products: Bakkt Bitcoin Monthly Options and Bakkt Bitcoin Cash-Settled Futures. The former will be the first Bitcoin options contract to be regulated by the CFTC. The latter is intended to serve as an alternative for participants who are unable to trade the physically-settled contract. It will initially be available through ICE Futures Singapore, which is open to traders worldwide. [Link]
Sparkswap, the first cryptocurrency exchange built on the Lightning Network, has simplified its sign-up process. The platform, which relies on atomic swaps to let users buy Bitcoin directly to a Lightning Wallet, can now be accessed with just a phone number, name, and email address. [Link]
Binance has partnered with peer-to-peer cryptocurrency trading platform Paxful to enable additional fiat on-ramps. Through its Virtual Bitcoin kiosk, Paxful facilitates payments in 167 fiat currencies. The world's largest cryptocurrency exchange has also launched Latamex, a South American fiat gateway, to allow customers to buy Bitcoin, Ether, Binance Coin (BNB), and Binance USD (BUSD) with Argentine pesos and Brazilian reals. [Link]
---
🏆 Our Weekly Poll
In our last poll, we asked you about Lightning mobile wallets. Here are the results:
This week, we want your take on crypto derivatives exchanges. We covered options trading at OKEx and BitMEX's addition of SegWit support. In your opinion, which major crypto derivatives exchange offers the best user experience?