Welcome to Issue 27 of Popular Crypto, a newsletter about the mainstream products and services taking crypto to the masses.
In this issue:
Casa enables Bitcoin inheritance planning
How to build an unstoppable WordPress blog
Coinbase adds DeFi to its wallet app
Brave partners with Binance for in-browser crypto trading
We also cover the Coldpower Adapter, a "dumb" or power-only adapter that can charge a Coldcard or Opendime with a standard 9-volt battery.
All that and more in this week's issue. But first, here's some…
🚀 Updates From Nomics
#1. ⚖️ Introducing Our Currency Converter Page: A few weeks back, we debuted our currency converter, which lets you price a cryptocurrency in any other crypto or fiat currency. This functionality, which is still available on all of our cryptoasset pages (see our Ethereum Price / ETH page), is now front and center on our new Currency Converter page. The new page also includes markets and historical data.
📈 Nomics Integrates 21 More Crypto Exchanges: We've added 21 more crypto exchanges. LATOKEN, ZG, WhiteBIT, Omgfin, Bitget, and Bithumb Global were added with "C" Transparency Ratings for offering recent candle data. Hubi, Kumex, PrimeXBT, IndoEx, Kryptono, eToroX, StakeCube, Huobi Korea, VB, and BITFRONT were added with "D" ratings for providing only low-granularity, non-historical ticker information.

Meanwhile, DeversiFi, qTrade, BitUBU, and ProBit were added with "A" ratings for sharing high-granularity trade-level data with full histories for each currency pair.

Currency.com, which completed a "deep data integration," was added as an A+ Verified Exchange. This means that we've vetted Currency.com's trade history and verify that it meets the highest standards of reliability, consistency, and data integrity.

All data is available on Nomics.com and through our market data API. For more on our rating system, check out the following essay.
#3. 🎧 Handshake Network, Namebase & A Censorship-Resistant Internet: Flippening episode #73, part two of Handshake Network, Namebase & A Censorship-Resistant Internet, is live on our blog. We're joined by Tieshun Roquerre, co-founder and CEO of Namebase, an exchange and registrar for Handshake (HNS) domain names. We consider Handshake from an investor's perspective before diving deep on name auctions and Namebase's future.
#4. 👀 Another Nomics.com Ticker Sighting: Our embeddable cryptocurrency pricing widget has popped up again, this time on cryptoai.trade, a site that publishes daily analyses of top cryptocurrencies.
If you've embedded our free cryptocurrency pricing widget on your website, let us know. You might be our next Nomics.com Ticker Sighting. For more on the widget, read the announcement post.
And now, let's see what the cryptocurrency world has brought us this week.
Clay Collins
Nomics Co-Founder
🙏 Thanks To Our Sponsors: Nexo & CryptoTrader.Tax
🏇 This Week's List
#1. Casa Enables Bitcoin Inheritance Planning
With Coronavirus saturating the news and social media, mortality is on people's minds. Folks are writing wills and drawing up estate plans. But how can you bequeath Bitcoin without compromising your keys?
One option is Casa Covenant, which works by adding a sixth key to the traditional 3-of-5 multisig setup. In life, HODLers retain their private keys and can access funds by invoking two of the remaining four keys. At death, Casa activates the sixth key, which is held by an estate lawyer, a safe deposit box, or Casa itself.
For more on Covenant, check out the following post.
---
#2. How to Build an Unstoppable WordPress Blog
As WordPress powers more than 30% of the internet, anyone aiming to popularize a piece of web technology should think about packaging their ideas into a plugin. Jeffrey Lubbers did exactly that with IPFS Bridge, a plugin that simplifies the way that content is published to the InterPlanetary File System (IPFS). [Link]
IPFS is a peer-to-peer network that stores content across multiple servers, insulating it from censors. It also supports historical versioning, so anyone can go back in time and see whether content was manipulated.
Tech like IPFS Bridge and blockchain-based naming facilitates the creation of decentralized websites that are censorship-resistant and durable – once content is posted to IPFS, it stays online so long someone, somewhere is hosting it.
To learn more, catch this week's Flippening with Tieshun Roquerre of Namebase or our December '19 interview with Brantly Millegan of Ethereum Name Service.
---
#3. Meet Cobo's Military-Grade Crypto Wallet
The Cobo Vault is not your typical cryptocurrency wallet. It's big, it's heavy, and it's built from high-strength aluminum alloy. It's also expensive, retailing at $479.
You're paying for security. The Vault is 100% air-gapped (upgrades are delivered via TransFlash card), keys are stored on a "bank-grade encryption chip," and if the device falls into the wrong hands, it automatically self-destructs. 
At present, the wallet accepts Bitcoin (BTC), Ethereum (ETH), Bitcoin Cash (BCH), Litecoin (LTC), EOS (EOS), Tron (TRX), Dash (DASH), and Ethereum Classic (ETC). For more info, watch the following video:
---
#4. Breez Launches a Lightning Network POS
Breez has launched the world's first mobile, non-custodial, Lightning-only point-of-sale solution. Accessible from the Breez wallet, the interface lets merchants take payment in Bitcoin or fiat currencies like USD, EUR, GBP, and JPY. It also supports a searchable product catalog, a manager password for sending payments, and .csv exports.
For more on Breez's point-of-sale mode, see the following video or read their announcement post.
---
#5. Coldcard's 9V Adapter Protects Against USB Hacking
Coinkite has released the Coldpower Adapter, a "dumb" or power-only adapter that can charge a Coldcard or Opendime with a standard 9-volt battery. The device is great for portability and it protects against hackers. Believe it or not, it's possible to jack data or install malware through a USB port – or something disguised as one.
---
#6. Coinbase Adds DeFi to Its Wallet App
Coinbase has integrated DeFi lending with its popular wallet app, Coinbase Wallet. Users simply choose a coin to lend, browse a list of providers (and interest rates), and enter an amount. Balances can be tracked via the dashboard, and funds can be withdrawn directly to the wallet. [Link]
Eligible coins include USD Coin (USDC), Dai (DAI), Basic Attention Token (BAT), Augur (REP), Wrapped Bitcoin (WBTC) and 0x (ZRX).
---
#7. Brave Partners With Binance for In-Browser Crypto Trading
Brave, which now boasts more than 12 million monthly active users, has teamed up with Binance to bring crypto trading to the browser. Brave's New Tab page now features a widget that lets Binance account holders trade cryptoassets, view balances, and get deposit addresses – all without clicking away.
At present, this functionality is only available for Nightly, Brave's testing version. A general release is anticipated for April 2020. [Link]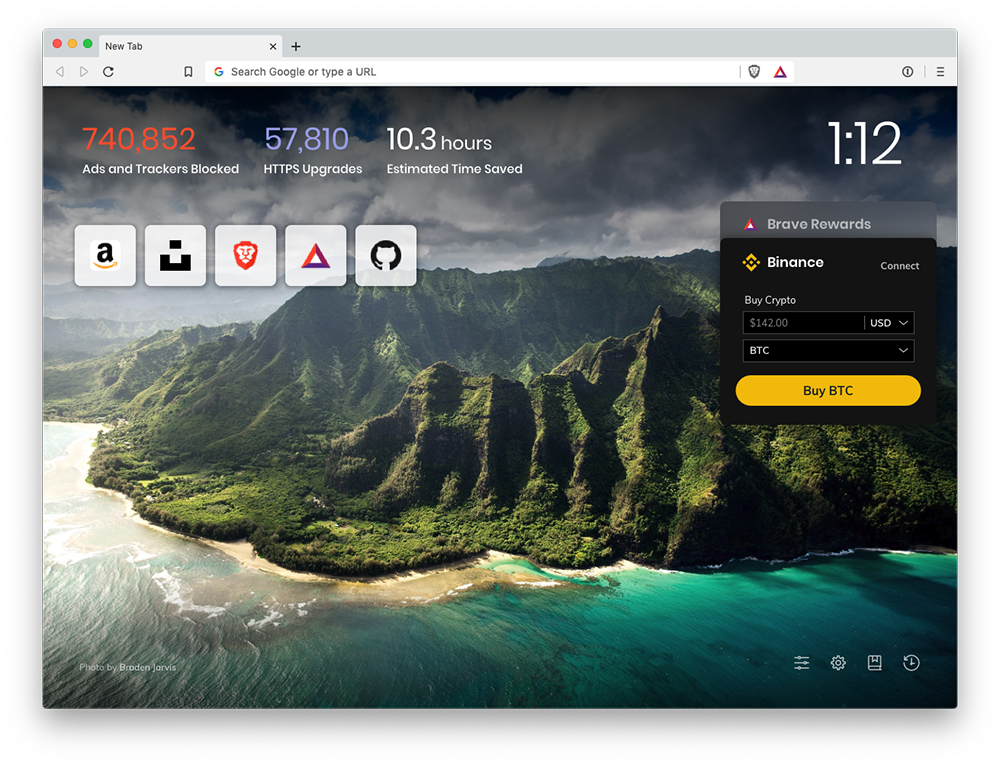 ---